Keys to NextGen Software Defined Storage
Genesis of Next Gen Data Centers
With IT evolving into a key strategic asset for businesses, CIOs constantly find themselves at crossroads in deciding if and when to venture into emerging new technologies that are starting to shape the next generation data centers. IT's challenge lies in traversing a maze of competing technologies and tools to choose from, while avoiding hype from vendors in the creation of an adaptable, scalable and highly available infrastructure which quickly will respond to changing critical business needs yet can be implemented without disrupting existing IT processes.
In this internet driven era of online real-time transactions, web based collaboration and big data business intelligence to support key enterprise operations - all are giving rise to a whole new set of possibilities to achieve business efficiencies hitherto heard of or feasible.The IMEX Report on SDDC 2014 provides guidance on various new technologies and practices - what they are, their significance to the business and strategic impact on the operation of datacenters in support of business.
In the past, data centers ended up with isolated application environments with low resource utilization, higher cost, complex management and an inordinate amount of power consumption virtualization was the first step to attack these issues.
IT Infrastructure using Virtualization
Virtualization is a major disruptive technology that is delivering compelling benefits in significantly improving TCO and ROI in IT organizations.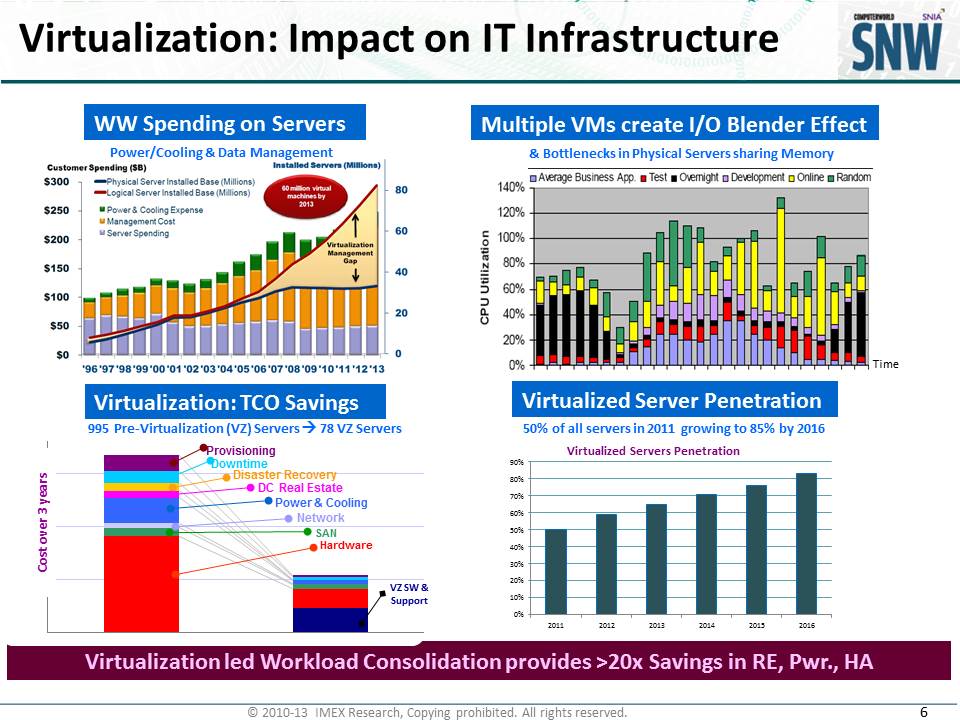 The runaway success of Virtualization lay in software driven provisioning of pooled resources to optimally meet each application's requirements (such as IOPS, latency or Bandwidth) for an efficient data center. But the side effects from creating multiple Virtual Machines (VMs) requiring specific performance metrics (e.g. I/O or bandwidth or cost or availability) ended up in creating serious I/O bottlenecks in physical servers that were sharing memory and storage - called the " I/O Blender Effect ".
A New Data Center Model Needed
So arose the need for a Software defined Datacenter that allowed targetng each VM's specific resource needs to be met as the next step. Additionally it allowed todrive storage services (such as data protection and storage efficiencies techniques such as encryption, Compression, Snapshots, Deduplication, Auto-tiering etc) to be harnessed to provide an efficiently integrated and dynamically active system and not merely a passive keeper of data.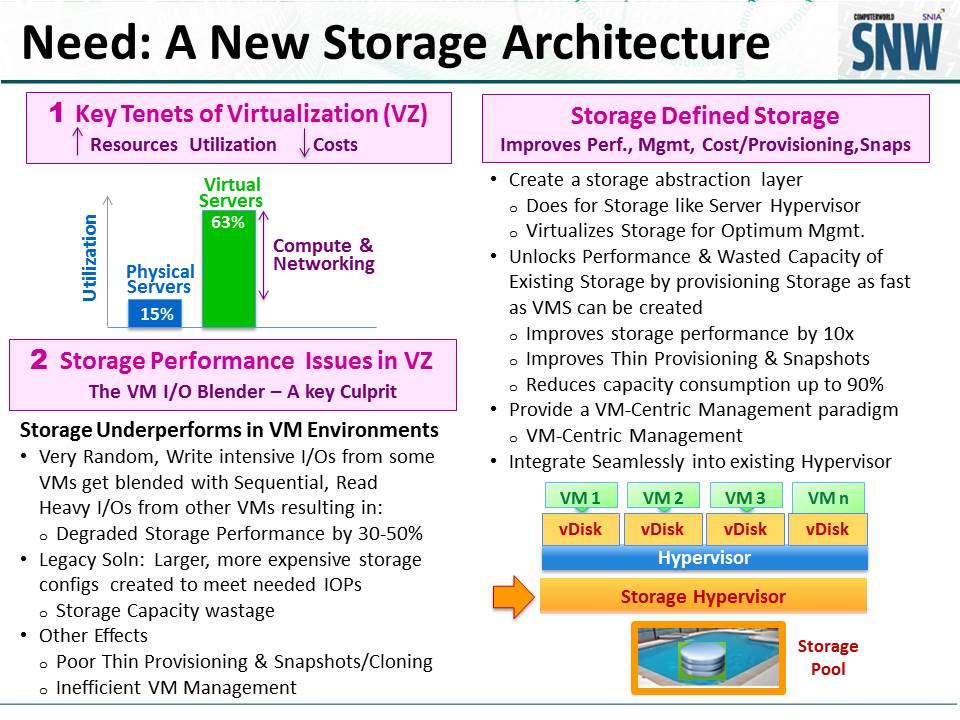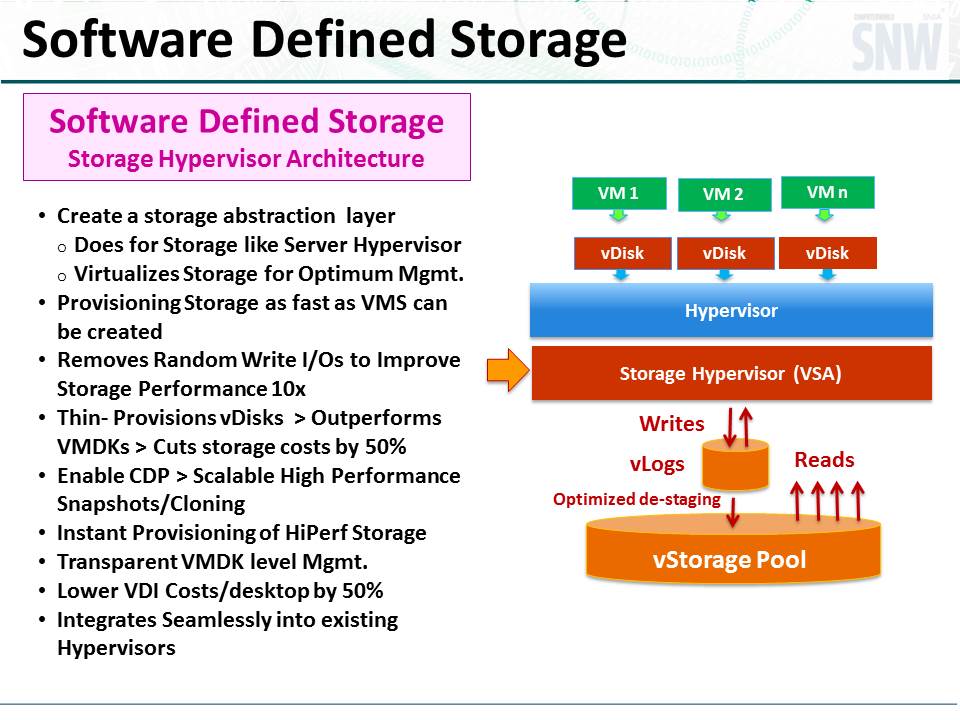 IMEX Industry Report - Software Defined Storage 2014
IMEX Research has established a series of metrics that the next generation software defined data center architecture must provide. IMEX Research's SDS 2014 Report provides detailed guidance for IT infrastructure vendors and IT purchase decision makers on how to optimally deploy compute, storage, intelligent information networks/SDNs and software technologies that best delineate the infrastructure needed to optimize IT resources .
Subjects analyzed
Datacenter technology trends: what are the technologies for the next-generation datacenter?
Strategic vision: what issues, opportunities, and threats do datacenters forces as they plan for the next 5-10 years?
Enterprise architecture: what are the datacenter infrastructure requirements for power and cooling, capacity planning, change control processes, system utilization, compute density, and alternate power?
Case Studies: Experiences of early adopters of implementing and managing data center using profiles of some leading US data centers
Virtualized Datacenter/infrastructure Vendors: Products, profiles and strategies
Highlights include
Prescriptive guidance based on experiences of early adopters sharing their experiences of implementing and managing
Planning and deployment from physical to virtual to Software Defined Data Centers
Storage - Strategies to ease storage management, improving data availability, creating a foundation for disaster recovery and business continuity
Enterprise Applications -- enterprise-oriented SDDC technologies (Servers, storage, Networking/SDN) meeting application demands through software driven architectures
Implementing and Managing SDDC- best practices for configuring, managing SDDCs in production environments


Major chapter include

1. Executive Summary
2. Market Drivers and Industry Dynamics
3. Market Segments and Product Requirements
4. Market Forecast and Market Shares
5. Enabling Technologies and Standards
6. Competitive Products and Positioning
7. Major Suppliers Portfolio and Strategies
8. Go-to-Market Distribution Channels
9. Recommendations for Vendors, Channel Players, End Users & Investors plus
10. Methodology and References sections.





Click for Table of Contents For Overview of Industry Reports click here
or click the following icons