Enterprise Virtualization
Enterprise Virtualization combines server, storage, application and desktop virtualization technologies to create a more flexible, cost-effective infrastructure, eases the deployment of servers, applications, and client systems, and paves the way to dynamically manage your IT environment. Running multiple virtual servers (also called virtual machines) can fully exploit a physical server's compute potential — and provide a rapid response to shifting datacenter demands.
Unlike grid technologies, which require architectural changes, server virtualization lets firms easily encapsulate applications into containers that can be moved between physical servers priming the use of advanced technologies such as automated configuration and distributed load management.
The Market
Virtual servers are now ready to go beyond the early adopter stage to become full mainstream in the next year or two. Driving the push for virtualization is cost reduction through server consolidation, dynamic provisioning, and disaster recovery.
Virtualization Technology usage in large and medium sized companies, grew from 29% in 2005 to 40% in 2006. Expect 45% of all new servers purchased in 2007 to be virtualized, according to IMEX Research estimates. This adds up to an estimated worldwide market for Virtualization software to grow from $790 million in 2006 to $1.75 billion in 2009 – a hefty growth of 32% cagr.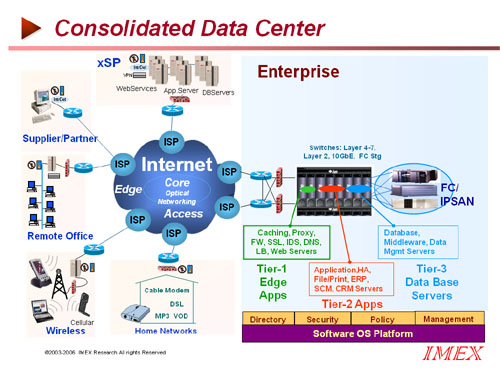 Goals of Enterprise Virtualization
| | |
| --- | --- |
| Cost | Improve server utilization. Lower hardware costs. Reduce power and cooling requirements. Leveraging new technologies like Xen and Intel VT to dramatically change the economics of virtualization |
| Availability | Increase system uptime; Increase data protection; Ensure rapid disaster recovery; Reduce power and cooling requirements. |
| Performance | Accelerate server, storage, and desktop provisioning. |
| Security | Reduce security risks. |
| Interoperability | Support unmodified 32 and 64-bit Windows and Linux operating systems on a single virtualization platform |
| Manageability | Create a flexible infrastructure. Centrally manage virtual computers and physical servers create more flexible infrastructure and deliver computing capacity on demand Reduce the time it takes to provision and redeploy severs and applications from days/weeks to minutes |
| Scalability | Enhance business agility. Run enterprise-class applications on virtual infrastructure |
Issues to be Resolved
The proliferation of virtualization technologies across enterprise networks is exploding, and IT professionals are beginning to realize that in actual practice the ability to manage virtual applications, and integrate them into the physical layers is more of a challenge that many first thought. In fact, many of the early adopters are now convinced that these breakthrough technologies are creating as many systems management headaches as they solve, including:
• Databases may not yet be ready to be virtualized due to performance issues involved.
• Managing the sprawl of Virtual Machines, is not fully under control yet.
• Uncertainties relating to software licensing Costs - Most application software licenses are tied to the physical processor cores in the machine, not the virtual processor cores used in the virtual machine. Thus if a virtual 2-way operating system in a four-way server is implemented it may mean paying for a 4-way server license
• Since implementing disaster recovery or remote replication on the fly requires moving data over the WAN, its imperative that WAN optimization must be put in place prior to implementing Virtualization top avoid remote storage issues.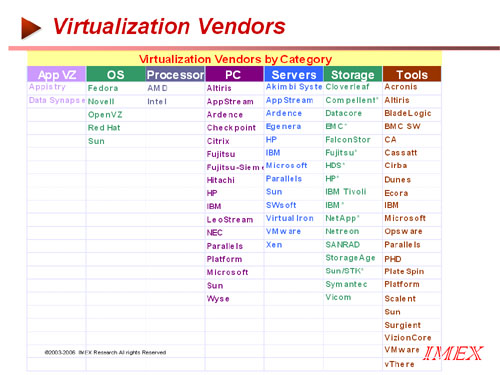 Futures
Expect to see server and system vendors move toward standardized frameworks in virtualization. IMEX Research envisions that virtual machine interfaces will move from the current vendor-specific model to a standardized topology allowing customers to dynamically switch between multiple vendors, further streamlining data center consolidation, especially during mergers and acquisitions. Expect moving OS instances and application instances from server to server based on manual administration decisions or rudimentary policies, allowing IT managers to run their data centers more efficiently.
2007 will be a busy year in the virtualization field – Microsoft and Xensource will elbow their products into the market to challenge the dominance of VMware which held a market share of 86% in 2006 and is rapidly expanding its domain from a simple physical server o multiple virtual servers to improve x86 usage utilization into a broad systems infrastructure based behemoth with a plethora of tools to virtualize all IT resources from PCs to Grids
.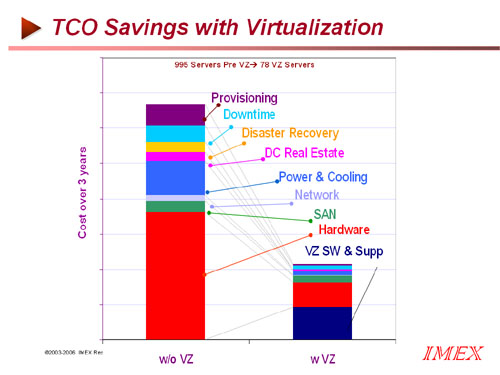 Report
IMEX Research's Industry Report on State of the Virtualization Industry addresses the needs of Vendors (Semiconductors, Boards, Subsystem and System Manufacturers), Go-to-Market Direct and Indirect Channels (System Integrators, VARs and Distributors), End Users by Vertical Industries and Investors/VCs in pointed ways:
For the end users the report provides:
• Prescriptive guidance based on experiences of early adopters sharing their experiences of implementing and managing virtualization
• Planning and deployment from physical to virtual - migrating systems from a physical to a virtual IT infrastructure
• Storage Virtualization - Strategies to ease storage management, improving data availability, creating a foundation for disaster recovery and business continuity
• Enterprise Application Virtualization -- enterprise-oriented grid technologies meeting fluctuating application demands through a shared services architecture
• Desktop Virtualization - Various approaches to virtualizing desktop systems and client applications - the challenges, costs and benefits
• Virtualization in IT – in many ways, from load balancing and software support to demos and training, that virtualization can deliver unexpected benefits to IT
• Managing Virtualization - best practices for configuring and managing virtualization in test, development and production environments
For the vendors , the report provides a comprehensive look at the current and evolving industry and the opportunities, pitfalls and outlook on virtualization encompassing 10 chapters
• Executive Summary
• Market Drivers and Industry Dynamics
• Market Segments and Product Requirements
• Market Forecast and Market Shares
• Enabling Technologies and Standards
• Competitive Products and Positioning
• Major Suppliers Portfolio and Strategies
• Go-to-Market Distribution Channels
• Recommendations for Vendors, Channel Players, End Users & Investors plus
• Methodology and References sections.