Executive Summary

|

TOC

|

Order
IP SANs -
The Future of Storage Networking
IP Everywhere
Leveraging the ubiquity, familiarity, and volume drive economics of IP and Ethernet technologies, IP Storage is positioned to create a new wave of storage interconnectivity that will transport data seamlessly end-to-end between clients and servers located anywhere in local (LAN), metropolitan (MAN) and wide area network (WAN) environments. The roadmap to higher performance iSCSI includes the emerging 10 GbE switch infrastructures and adoption of IPsec v6 highly secure technologies.

Because of this, native IP storage has generated a great deal of interest within the storage industry, as it offers a high-performance, low-cost network storage solution. It also provides a smooth transition path from today's high-cost, quasi-proprietary Fibre Channel SANs to standard IP SANs.

SNICs - High Performance NICs for Storage & Security
Dedicated ISITOE (Integrated Security, iSCSI Acceleration and TCP Offload Engines) functions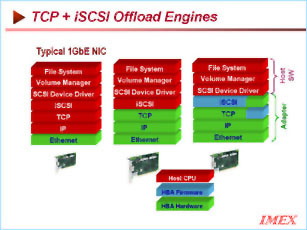 are being made part of NICs to accelerate the performance of iSCSI based client/server/storage systems. Industry standard unified management (SMI), iSCSI enabled switches, and disk arrays based on low-cost SATA disk drives are being implemented and are now available from a number of companies. The resulting price erosion from widely used, high-volume IP SAN products will rapidly displace Fibre Channel SANs.

Expanding the Market
iSCSI will expand the market, making SANs available to the Small and Medium Businesses, which hereto could not afford the expensive, vendor-proprietary FC solutions. For a few years both FC and iSCSI technologies will co-exist addressing different market segments; but as XML technologies and web services start to become commonplace, the low-cost IP SAN solutions would overtake FC SANs, even at the high end by 2006.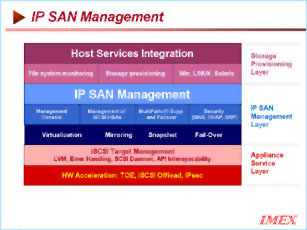 Combining the best features of IP Network Management and FC Storage Management, the new features in IP SAN Management will allow a rapid acceptance of next generation IP SANs, which are being brought to market by at least 50 companies, now.
TeleStorage - the next frontier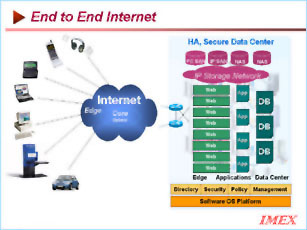 Once the end-to-end IP storage infrastructure is established, TeleStorage will emerge strongly, changing the way corporations build their data center infrastructures. With the overbuilt dark fibre capacity available from the new telecom carriers, expect to see applications such as video-on-demand and grid computing to kick in as the present recession wears off. SSPs will then reincarnate to provide managed storage services to customer sites using a seamless storage over IP solution, directly form the IP internet.