FOCUS ON: BLADE SERVERS
Cost-Of-Ownership Benefits Spur Growth
Solution providers see enterprise server market as key to expansion
By Joseph F. Kovar
CRN
- 5:05 PM EST Fri., Mar. 14, 2003

Blade servers could become one of the fastest-growing IT industry segments this year, solution providers say, as these products begin to expand beyond the telecom and high-performance cluster markets to grab an increasingly larger share of the enterprise server market.

Until now, the adoption of blade servers has been hampered by how new they were and because they were introduced during a down economy, said Joel Gilberts, vice president of Manchester Technologies, a Hauppauge, N.Y.-based solution provider.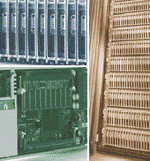 But, according to Hunt Russell, sales manager at solution provider Evolving Solutions, Hamel, Minn., cost-of-ownership issues should make blade servers attractive to clients with multiple Terminal Services, Citrix or Exchange servers. These clients could show enough cost savings in power, cooling and space expenses to loosen budgets constrained by the poor economy, he said.
"A lot of IT directors and CTOs are getting bonuses for saving IT budgets," Russell said. "They need to find some ways to reduce costs. %85 Say they have a maintenance contract on legacy two-year-old or three-year-old servers. We could throw blade servers into a lease and get the lease expense to be less than the monthly maintenance cost for the legacy servers."
While currently small, the blade server market is expected to grow quickly in the next few years. Sales jumped to about $95 million in 2002, compared with $10 million in 2001, according to IMEX Research. By 2005, the market is expected to explode to more than $1.4 billion.
Blade servers aimed at the commercial space now make up only about one-quarter of the blade server market in revenue terms, but they should account for 40 percent of the market by 2005, at which time the commercial space will exceed the telecom space, according to IMEX Research.
IMEX Research estimated the cost per year of running 336 blade servers, including the costs of acquisition, electricity, deployment and provisioning, to be about $389,000, compared with $707,000 for 1U rack-mount servers.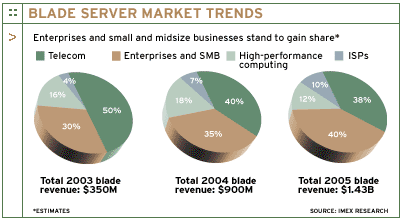 Hewlett-Packard, the volume leader in the blade server market, is focusing on the commercial market this year, said Sally Stevens, director of marketing for the company's blade servers. HP recently introduced two-way and four-way blades and is including on-board SAN connectivity as a way to move further into the commercial space, Stevens said.
Starting next year, HP's blade servers will include such performance features as TCP/IP offload and the capability to address data across multiple servers, said Stevens. By 2005, HP is planning to deliver automatic blade server provisioning, which enables a server to be dynamically switched from one application to another.
Bob VanSteenberg, CTO and vice president of platform development at Houston-based RLX Technologies, said that in the future increased blade server processor power, memory, I/O capabilities and storage capabilities will drive the products deeper into the commercial marketplace. RLX next month will ship blade servers with the Intelligent Platform Management Interface (IPMI), an Intel management standard under which each blade has an independent processor on board for monitoring, provisioning and other management capabilities, he said.
Sun Microsystems this month will start shipping SPARC blade servers with its Solaris operating system, and will roll out Advanced Micro Devices' Athlon mobile processor versions next quarter, said Souheil Saliba, vice president of marketing for the company's volume systems products.
IBM, meanwhile, is working with Nortel Networks to build an advanced switch for content management, quality of service and load balancing into its blade servers by year-end, said Tim Dougherty, IBM's director of blade server strategy.
---
Copyright 2001 CMP Media LLC.